About Elite Limousine Service, Inc.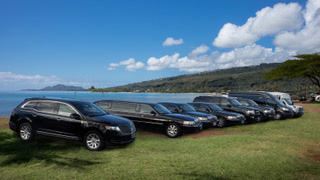 Aloha,
Elite Limousine Service was established in 1978 and has enjoyed over thirty successful years serving clients from Hawaii's corporate and tourism markets. After a career in public safety as a Captain of the Honolulu Fire Department, I founded Elite Limousine Service to address the needs of a growing tourism industry in my Island State. Hawaii hosts many meetings and special events requiring transportation and coordination of logistical arrangements at higher than average levels.
My objective is to consistently provide superior custom transportation services, using the safest and finest equipment available, to local businesses and international guests visiting Hawaii for business and pleasure. This company is founded on and dedicated to principles of integrity, reliability, and "high-touch" customer service, with the basic philosophy to apply the standards of safety, security and public service that are second nature to me and to those I select as Elite Staff.
Having more than thirty years of experience as a business owner and President of one of Hawaii's premier transportation companies, serving both the visitors and the residents of Hawaii, I look forward to welcoming you to our Islands and providing you an Elite Experience of outstanding transportation services and amenities while you are in our care.
Mahalo a hui hou,

Eugene "Bucky" Yee
President
Elite Limousine Service, Inc.
Leader of Private Transportation Services
We are recognized as a leader in Hawaii's transportation and limousine industry. We are "hands on" managers who are dedicated to excellence and delivery of quality service. We are an advocate of ethics in business practices and are active in our community regarding issues relating to the transportation and tourism industries.
Elite Limousine Service is authorized and licensed by the State of Hawai'i's Department of Transportation, Public Utilities Commission and the Airport Operational Area Authority.
Service Testimonials
On behalf of the New Zealand Goverment I would like to thank you and your team for all their hard work during the APEC Economic Leaders Meeting.

It was a very busy time for us and the nature of the meetings meant there were a number of last minute changes and your driver's professionalism and flexibility were key to their success. A number of days there were some very early starts and late finishes and your teem of drivers were a true pleasure to deal with.

I would like to acknowledge in particular Thomas Silva, Richard Soo and Achim Koening, as well as the rest of the staff who were friendly and helpful during our visit.

Mahalo.

Ri Hon Michael Moore
New Zealand Ambassador to the United States.
December 2, 2011
Elite Limousine Service is truly one of Hawaii's premier limousine service providers. Their consistent professional performance and dependability makes their company one of the most outstanding in the transportation industry.
Bucky and his staff are always accommodating in every aspect of quality, and their caring service is exceptional. The services that Elite provides, makes my job a whole lot easier especially knowing that they're always there to assist me in any type of demanding and unforeseen situations. Elite's drivers are always willing to comply with any type of last minute changes thus making them easy to work with.

Keith Vierra
Senior Vice President, Director of Operations
Starwood Hotels & Resorts
Hawaii & French Polynesia
May 3, 2002
Over 24 years, Elite Limousine has risen to one of the most respected names in Hawaii's corporate and leisure transportation industry. The firm was launched in 1978 by its current President, Eugene "Bucky" Yee, who retired as a highly respected Captain in the Honolulu Fire Department, and is usually staffed by experienced and trusted firefighters and other public safety officers. In addition to its team of mature, well-trained, professional drivers (who have a thorough knowledge of Hawaii's culture and environment), Elite's limousines are immaculately maintained and equipped.

When VIP logistical requirements are complex and demanding, there is no better firm anywhere in Hawaii than Elite. Managers, coordinators, and drivers are universally respected by police, airport authorities, and throughout the visitor industry for totally dependable service, courtesy and safety. During the 2001 Annual Meeting of the Asian Development Bank in Honolulu, Elite earned the deep respect of world financial leaders as well as law enforcement agencies for its masterful coordination of all VIP transportation without flaw under extremely demanding security restrictions.

Hawaii's global reputation for hospitality, cleanliness, and safety is unsurpassed. Elite Limousine Service adds to Hawaii's reputation in a powerful way as one of the most professional VIP transportation companies anywhere.

Robert Fishman
Chief Executive Officer
Hawaii Tourism Authority
July 03, 2001